Here's a little something about me.

Name:

I already told you, silly!

Age:

That's for me to know, and you to debate on.

Race:

I'm an Earth Pony, why are there such silly things I have to tell you?

Universe:

My home one, of course.

Roles:

I was the main protagonist in Pinkie Pie's Fishing Adventure. I also wield the Element or Laughter which is a really, REALLY important thing in the story that follows.

Fighter Type:

I throw stuff, hit people with stuff, drop stuff, stuffity-stuffy-stuff-stuff...It's not like I know Karate like some of my friends do or anything.

Nationality:

I come from Equestria

Affiliations:

Side:

DUH, the people that AREN'T the meanies trying to take over everything!
I did some REALLY bad stuff to the the B.O.C. Here's what they want done with me...Hey, that rhymed, hehe! I think Zecora would be more suited for it though...Oh, right, what I did!

Desired State:

They want me Alive even though I did a whole bunch of stuff to them...I don't blame 'em though, I AM a loveable TV icon after all.

Bounty:

What, you mean like the Quilted, Quicker Picker-Upper? But seriously, I HAVE NO IDEA! IT KEEPS CHANGING ON ME!

Consideration:

AURGH, WHAT WAS I THINKING!? MOMMY!

Crimes:

Hmm...I lost track after the thing with the Rubber Chicken.

Dos and Don'ts:

I don't know, nopony's tried to come after me.

Description:

((Error))
Psst...PSSSST! Over here...On your right! Hi, I'm Pinkie Pie, I'm one of the Breaking Characters in the series. That's right, we've taken the Fourth and Fith Walls and smashed them into teeny-weeny, itty-bitty pieces! I had a BIG role in an Interquel that shouldn't have existed yet. Now I'm just waiting for the following story to continue my adventures in this tale!
What can I do?
Edit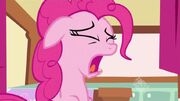 Well, I'm good at a lot of things. Things like baking, dancing, partying, persuing...Oh, and I have neat ability just for this series which is called
saiopa;kjnsfsd.,fjsfa;kalDAFSSNBDSFSAKJLa;oisanfs;jakfls;nvK?ZJZss;ansla;a al;idjsoanfa/lvkdasadk;dna ldflskd;';ewfjo;sd;dlksadknfkakal;skS'F;LDFS;lkjaioje; paois;jansvsdflnsaa;jlkdfa nvsmsflaD:"Aon za;Ooaop' ;klanmm ndioopwDa'sd;lknb;dfosa'dokaf;vmdnfsOal;ksn vskas;'No;aweijanvksa i;a'Ea'pol;sanvsoqD;oi aojslnkal;aAaoi;jnkas.kz!aiopj;nszvknsdka;jfmk,gvsjgkdf.
Oh SHOOT! I did it again!
Here's what it's been like for me since this whole Interdimensional wackiness started
Edit
Okay, so Fluttershy got a big part in the first story and Dashie gets a cameo with her Sonic Rainboom (Both when they were Fillies), but thanks to the guy writing the whole thing, I got my place in the spotlight early.
It all started when I was on a camping trip with my friends.
Edit
(Muzzled)
Community content is available under
CC-BY-SA
unless otherwise noted.