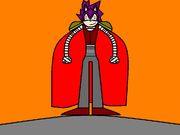 Junk you might wanna know

Name:

Nobusaki "Yaku" Hakanoshi

Age:

1 month (WHU), 20 (TNG)

Race:

Mobian (Hedgehog)

Universe:

Sonic the Hedgehog

Roles:

WHU: Rescue

TNG: Leader, Overlord, Antagonist, Ally

Fighter Type:

Supervillain, Martial Artist

Nationality:

Affiliations:

B.O.C (Leader), Rebels.

Side:

Bad guys, Resistance

Son of:
Nobusaki "Yaku" Hakanoshi is the top priority antagonist of When Heroes Unite: The Next Generation.
Role in the series
Edit
Being an infant during the events of the first part of the series, he didn't have much he did.
Kidnapped!
Edit
Yaku (Known simply as Nobu at the time) awoke from his nap as his parents and the rest of the connection were having lunch. Hokocho then arrives and kidnaps him. He was rescued by his father and Jade during a brief farce. (More to come)