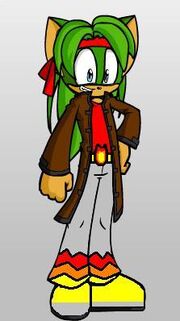 Junk you might wanna know

Name:

Sir Jaden Ocavius Grujaka Von Bat, IV

Age:

6 (WHU, 10-year timeskip) 16 (TNG)

Race:

Standard: Mobian/Demigod (Bat)

Transformation: Mythic Creature (Dragon)

Universe:

Sonic the Hedgehog

Roles:

AMAC: Visitor

Fighter Type:

Superhero, Martial Artist

Nationality:

Affiliations:

Muscle League (3rd Division Leader) The Phoenix Gang (Leader), Rebels

Side:

Resistance

Son of:
Wanted Poster Information

Desired State:

Just don't let him kill you.

Bounty:

Your fondest wish

Consideration:

Priority 1

Crimes:

Various

Dos and Don'ts:

O: Hinder him with the use of solid rubber.

X: Get in the way when he sends any projectiles back.

Description:

Possibly the most dangerous of our enemies. Go forth and show us how determined you are to have your greatest wish fulfilled.
Sir Jaden Octavius Grujaka Von Bat, IV (Often called "Master Jaden" by Shimo, "Sir Jaden" by Checkmate or simply "Jade" by just about everyone else) is the son of Jaden Von Bat, III (AKA, "Jade Sr."), decendant of the Mobian God of combat, Grujaka and the main protagonist of When Heroes Unite: The Next Generation. His moniker is "The Prince Of All Fighters" He makes a brief appearence along with Hay Flower in the final episode of WHU.
(More to come)
Community content is available under
CC-BY-SA
unless otherwise noted.