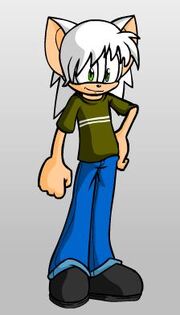 Sir Jaden Octavius Grujaka Von Bat, III
(Reffered to as
"Jade"
in the first series and
"Jade Sr."
in
the series' sequel
) is the main protagonist of
When Heroes Unite
. He serves as the central hero in the original story. His moniker is "The King Of All Fighters".
Junk you might wanna know

Name:

Sir Jaden Octavius Grujaka Von Bat, III

Age:

22 (WHU), 42 (TNG)

Race:

Mobian (Bat)

Universe:

Sonic the Hedgehog

Roles:

WHU: Leader (Alone)

TNG: Resistance affairs consultant.

Fighter Type:

Martial Artist

Nationality:

Affiliations:

Jade III's Party (Leader), Rebels

Side:

Resistance

Son of:
Wanted Poster Information

Desired State:

Dead or Alive

Bounty:

90,000,000 Currency Units

Consideration:

Dangerous

Crime:

Unknown

Dos and Don'ts:

O: Use long-range attacks and weapons.

X: Get too close to him, he may kill you.

Description:

If you see this man, turn him over to the nearest B.O.C soldiers. Be warned, he is known as the "King of All Fighters"
Role in the series
Edit
Mobotropolis
Edit
After finishing his lunch, Jade comes face-to-face with a strange creature named Hokocho who effortlessly defeated him then kidnapped Nobu after interrupting his speach. When he came to, he and Rutako followed Hokocho to an abandoned tea factory. After a confrontation with Doctor Shrubhead, he follows all three into a portal where he (More to come).
Community content is available under
CC-BY-SA
unless otherwise noted.