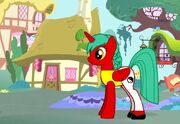 Wanted Poster Information

Desired State:

Alive

Bounty:

500,000,000 Currency Units

Consideration:

AURGH, WHAT WAS I THINKING!? MOMMY!

Crime:

Assaulting a Commander.

Dos and Don'ts:

O: Try containing her.

X: Get your hopes up if you think just any container would do.

Description:

Be careful out there.
Hay Flower (Commonly known by her allies and enemies by her middle name, Iron Cloud, often adressed as Iron) is a member of the Phoenix Gang. She makes a brief appearence along with Jaden Von Bat, IV in the final episode of WHU.
Community content is available under
CC-BY-SA
unless otherwise noted.