Wanted Poster Information

Desired State:

Alive

Bounty

400,000 Currency Units

Consideration:

Minor Threat

Crime:

Aiding and embedding criminals.

Dos and Don'ts:

O: Capture her.

X: Upset her, she will get violent.

Description:

She is fragile and timid most of the time, but deep within, she's just as dangerous as any Minor Threat out there.
Fluttershy is a sweet, caring young pony who lives in a cottage in Ponyville. She serves as a tag-along in When Heroes Unite, a supporting character in Pinkie Pie's Fishing Adventure and a tag-along and an element weilder in When Heroes Unite: The Next Generation.
Role in the series
Edit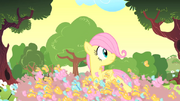 When Heroes Unite
Edit
(More to come)
Pinkie Pie's Fishing Adventure
Edit
Her role was brief in this four-part series. She mainly provided support. She was alsocaptured by Professor Blubberton...That's pretty much all she wrote.
Abilities
Edit
(More to come)
Community content is available under
CC-BY-SA
unless otherwise noted.