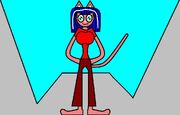 Junk you might wanna know

Name:

Claudia Miyadro

Age:

17

Race:

Uinverse:

N/A

Roles:

Fighter Type:

Superhero, Martial Artist

Nationality:

Affiliations:

The Phoenix Gang (Therapist), Rebels

Side:

Resistance

Goddaughter of:
Wanted Poster Information.

Desired State:

Alive

Bounty:

7,000,000,000 Currency Units

Consideration:

Dynamite:

Crimes:

Collateral damage, assault and battery, aiding and embedding criminals.

Dos and Don'ts:

O: Trick her into a trap strong enough to hold her.

X: Tell her you're working for us, stress her to her breaking point.

Description:

She may seem fragile and weak, but don't let that fool you, she has a second side to her when stressed.
Claudia Miyadro (Known as Farrah Raur in her Feral State) is the therapist and token Girl Next Door of the Phoenix Gang. (More to come)
Community content is available under
CC-BY-SA
unless otherwise noted.